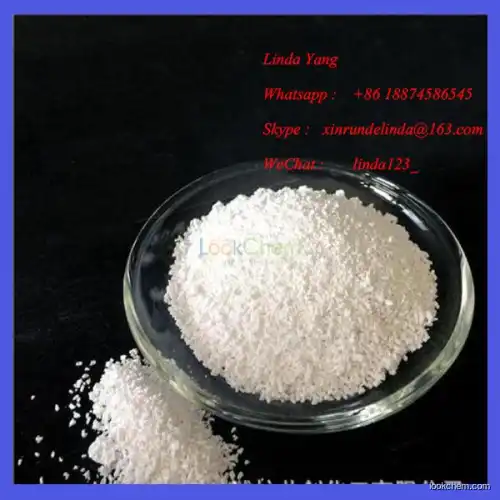 Keywords
99% Crizotinib
Pharmaceutical Raw Materials
API Manufacturer
Quick Details
ProName: Pharmaceutical Raw Materials 99%min Cr...
CasNo: 877399-52-5
Molecular Formula: C21H22Cl2FN5O
Appearance: White Powder
Application: It Can Be Used As Pharmaceutical Inte...
DeliveryTime: 2-4 days after confirming your payment...
PackAge: 100g/ bag, 2 kg/ bag, 25kg/ carton or ...
Port: Wuhan
ProductionCapacity: 10000 Metric Ton/Month
Purity: 99%
Storage: Store in sealed containers at cool & d...
Transportation: By DHL, TNT, FedEx, HKEMS, UPS, Etc
LimitNum: 10 Gram
Superiority
Advantages:

Hubei XinRunde Chemical Co., Ltd is a renowned pharmaceutical manufacturer. We can offer high quality products at competitive price in quick delivery with 100% custom pass guaranteed. Never stop striving to offer our best service is our philosophy. We have Flexible and Untraceable payment terms. As a leading manufacture, our products have been exported to Germany, Norway, Poland, Finland, Spain, UK, France, Russia, USA, Brazil, Mexico, Australia, Japan, Korea, Thailand, Indonesia, Uruguay and many other countries.
1. Quality.Every batch of steroid powders have tobetested by our QC(quality control) before they are allowed to sell.

2. Delivery We have stock, so we can delivery quickly at the very day when receive the payment. Within 24 hours after receiving the payment Lead time 4 or 7 days.

3. Discreet package Safelyand Professionally Disguised Package Guaranteed. For your safety and to insure delivery all products will be packed in a discreet way to prevent any suspicions, no steroids related name will appear on the parcels. high successful delivery rate.

4. Warm after-sale service Any of your question would be solved for the first as soon as possible.
Details
Pharmaceutical Raw Materials Crizotinib Powder for or Anti-Cancer 877399-52-5
CAS: 877399-52-5
Crizotinib Basic Info.
Product Name: Crizotinib
Synonyms: PF-2341066; 3-[(1R)-1-(2,6-dichloro-3-fluorophenyl)ethoxy]-5-[1-(4-piperidinyl)-1H-pyrazol-4-yl]-2-Pyridinamine;(R)-3-(1-(2,6-dichloro-3-fluorophenyl)ethoxy)-5-(1-(piperidin-4-yl)-1H-pyrazol-4-yl)pyridin-2-amine;3-[(1R)-1-(2,6-Dichloro-3-
MF: C21H22Cl2FN5O
MW: 450.343
Appearance: White Crystalline Powder
Assay: 99%
Crizotinib Introduction:
Crizotinib is definitely an anti-cancer drug becoming an ALK (anaplastic lymphoma kinase) and ROS1 (c-ros oncogene 1) inhibitor, approved for treatment of some non-small cell lung carcinoma (NSCLC) in the usa and some other countries, and undergoing numerous studies testing its safety and efficacy in anaplastic large cell lymphoma, neuroblastoma, and other advanced solid tumors in adults and children.

How can Crizotinib works:

Crizotinib has an aminopyridine structure, and operations as a protein kinase inhibitor by competitive binding within the ATP-binding pocket of target kinases. About 4% of patients with non-small cell lung carcinoma use a chromosomal rearrangement that generates a fusion genebetween EML4 ('echinoderm microtubule-associated protein-like 4') andALK ('anaplastic lymphoma kinase'), which leads to constitutivekinase activity that includes to carcinogenesis and usually drive the malignant phenotype. The kinase activity of the fusion protein is inhibited by crizotinib. Patients with this gene fusion are generally younger non-smokers that don't have mutations in either theepidermal growth factor receptor gene (EGFR) or perhaps the K-Ras gene.The number of new cases of ALK-fusion NSLC is about 9,000 a year in the U.S. and about 45,000 worldwide.

Crizotinib Usage

The inhibitory connection between crizotinib on MP cells and SP cells were dependant on colony formation assay. The IC50 value of crizotinib for MP cells was 21.3 nM. Of note, the SP cells showed no significant changes after crizotinib treatment. However, the SP cells showed a cell rate of survival of 50.00.6% following a combined treatment of crizotinib (22.4 nM) and verapamil (500 M), compared with 105.30.4% survival of SP cells given crizotinib (22.4 nM) alone. The expansion curves obtained show crizotinib inhibited the development of SP and MP cells, and also this inhibition was determined by both concentration and time.
Tumorigenicity was examined using immune-deficient mice, into which SP or MP cells of LLC were subcutaneously transplanted. Nonsorted LLC cells formed xenografts in mice at 1x105 cells. Tumor size was significantly decreased in the crizotinib-treated LLC groups compared on the untreated group